Student Body Shots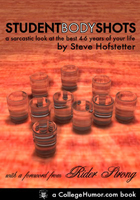 Student Body Shots is a series of books by Steve Hofstetter examining the ins and outs of college life. A witty, clever, and original look at campus, Student Body Shots does two things that no college guide can ever do - make you laugh, and tell the truth.

No shipping! Only $11.95!

ALBUMS

"Pick Your Battles"
(2011)
More...

"Steve Hofstetter's Day Off"
(2009)
More...

"The Dark Side of the Room"
(2008)
More...

"Cure For the Cable Guy"
(2006)
More...

"Tastes Like Bliss"
(2004)
More...

BOOKS

"National Lampoon's Balls!"
(2007)
More...

"Student Body Shots - Another Round"
(2005)
More...

"Student Body Shots"
(2002)
More...

SHIRTS

"Redophile"
More...

"Ask Me Why I'm a Douche"
More...

"Your Stupidity Offends Me"
More...