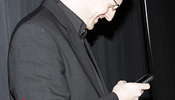 To book Steve, contact Barry Mackey at Next Round Entertainment

Having appeared on ESPN's Quite Frankly and Showtime's White Boyz in the Hood, Steve Hofstetter is one of the hottest comedians on the market today. His syndicated column & radio show, his weekly column for Sports Illustrated, and his dozens of television appearances are guaranteed to excite your audience. With a mailinglist of over half a million strong and a huge online presence, Hofstetter is your best option for any digital project.
Having appeared on CBS' "Late Late Show with Craig Ferguson," hosting "Trial By Laughter" on Comcast, CNN's "Campbell Brown," the syndicated "Comics Unleashed," E's "True Hollywood Story," Showtime's "White Boyz in the Hood," ESPN's "Quite Frankly," VH1's "The Countdown," CW's "The Daily Buzz", G4's "Attack of the Show", Sundance's "On the Road in America," ABC's "Barbara Walters Special," and dozens of local appearances, Steve Hofstetter is a well-known act. Add in his built in online and radio exposure, and he's your best choice for any wireless project.
---
See what people are saying about Steve:
"Regarded as one of the country's finest comedians."
-Portland Tribune
"Steve Hofstetter is one of the best comics I've seen."
-Corinne Heller, E! Entertainment Television
"Steve Hofstetter is that rare combination of funny and intelligent."
-Comedian Jim Gaffigan
"That's funny sh**."
-Adam Duritz, Counting Crows
"I love Steve Hofstetter more than I love Canned Pears...And I friggin love Canned Pears."
-Comedian Mitch Fatel
"Steve Hofstetter is hilarious, creative and cool."
-Comedian Alonzo Bodden
"Recommended if you dig Jerry Seinfeld, Robert Wuhl, Woody Allen."
-Atlanta Journal Constitution
"Steve Hofstetter is fantastic in an intergalactic way."
-Comedian Chris Rush
"Jokester Steve Hofstetter, may quickly become one of your favorite comedians."
-Tamara Ikenberg, Louisville Courier-Journal
"Called the 'Thinking Man's Comic' and compared to a young Jerry Seinfeld by Jay Leno, Hofstetter is an up-and-comer."
-Karen Shade, Tulsa World